There and Back Again, or: How The Hobbit Trilogy Let Me Down (and I'm clearly not over it)
So I'm a little late to this particular party (haha, party pun for ya), but having recently reread The Hobbit and finally finished the associated movie trilogy, I need to get some things off my chest. Before I get into all that, though, let's establish my ring-cred so you understand why I feel so let down. The Fellowship of the Ring came out in theaters when I was in eighth grade and I, along with many of my friends, was immediately obsessed. I probably saw it ten or fifteen times in theaters and attended the midnight releases of the second and third movies in costume. My friends and I religiously attended our local Lord of the Rings (LOTR) convention and were so well known in the fantasy con/renaissance faire circuit that everyone called us The Fellowship. My room was filled with LOTR posters, figurines, replicas, games, books, trading cards, and just about every other related thing I could beg my parents to purchase. I even had a LOTR-themed birthday party with a buffet spread of which any hobbit would be proud. So when I say I was a fan, I mean it – and I still am. My wife and I routinely quote the books/movies and I'm currently rereading the trilogy. Hell, I took a LOTR-themed writing class in college! What I'm saying is, this is a love that will never die. I am loyal to LOTR until the end.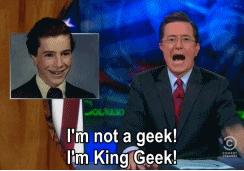 All that being said… I was supremely disappointed with the Hobbit movies. In fact, I was so disappointed by the first two that I didn't even see the third one in theaters (sacrilege!). I rewatched them recently hoping to change my mind, thinking perhaps my expectations had just been too high the first time around, but my opinion remains the same: they're just not good movies. And believe me, it truly pains me to admit that. I feel like I'm betraying a piece of my childhood merely by offering criticism where criticism is justly deserved. Maybe cloaked figures will show up at my door in the middle of the night to whisk me away to Mordor, or other fantasy fans will cross the street to avoid passing by me, yet still I have to speak this truth no matter how it breaks my geeky heart.
Many critics have already dissected the movies' main weak points – mediocre special effects, bloated plots, and unnecessarily lengthy action scenes to name a few – so I won't repeat them here, but all of these issues lead back to what I believe is the real flaw in the trilogy: its creators just tried too hard to recapture a magic that can't be forced. You see this with many popular franchises that have become very dead and very beaten horses (like my beloved Jurassic Park, alas!), so it's obviously an easy pit into which creators frequently stumble. The thought process seems to be something along the lines of, "They liked what we did last time, let's just do that again exactly the same way" without actually considering what they did and why it was so successful. Sequels in these franchises become copy/paste plots with so many allusions to the previous movies that even the most faithful fan grows tired of being pandered to. We don't want old characters and old plots dressed up in different outfits, we want new characters and new adventures!
The Hobbit trilogy tries so damn hard to be dark and edgy like LOTR and it just doesn't work. It's obvious the creators threw the book out the window, along with its humor and lighthearted vibe, and just pasted Bilbo and co. into the LOTR framework. All of our heroes are updated with tragic backstories and noble, selfless motives: Thorin becomes the burdened, exiled prince trying to save his remaining people, Bard is now a widower forced to smuggle so he can care for his young children, and the dwarf who falls in love with an elf (because every movie needs a star-crossed romance) is somehow stabbed with a morgul arrow so his lovely lady can dramatically save his life in the nick of time. It's just all so cookie-cutter obvious and feels like LOTR played out with different actors. They even managed to shove Legolas in there because why not? We definitely need another ten-minute action scene of Legolas shooting arrows and surfing on vines.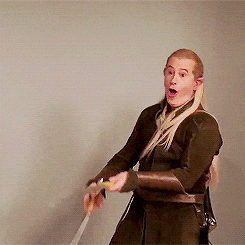 There's no heart in The Hobbit. I don't doubt that it was a labor of love, of course, because you can't produce a movie trilogy that complex without people who love what they're doing, but it lacks the essential magic that made the first trilogy so captivating. The action scenes feel meaningless, primarily because there are so fucking many of them that you become oversaturated with the constant high-stakes drama, and the plot bits in between feel too repetitive to be truly engaging. By the third movie this horse is not only dead and beaten but practically unrecognizable as a once-living creature. All you really want to do now is kick some dirt over the remains and leave. And that sucks, honestly, because I went into this trilogy ready to renew my obsession with a childhood passion and yet came out of it feeling… well, tired, mostly. Like butter scraped over too much bread, if you know what I mean.
I didn't really have a point to this rant; I mostly needed to get it out of my head so I would stop harassing my friends about it. I just… I really love the LOTR universe and I strongly believe The Hobbit could be made into a fantastic movie. By pandering to the box office, though, we missed out on that potential awesomeness and instead got a LOTR prequel trilogy that didn't really add anything to the franchise. There's probably a good metaphor here about what happens when you're driven by money (*cough* gold *cough*) instead of a more noble desire, but I'm ready to bury this horse once and for all. Rest in peace, mellon.