Reading Master and Commander, or: Meet Your New Fandom
Last winter my father told me to read Master and Commander by Patrick O'Brian. This might not seem very odd or momentous to you, but my father has been dead for eleven years. However, when I dreamed of us walking through a bookstore, looking for this exact title, I took the hint and grabbed the book off his shelf where the series has sat untouched all that time. I figured even if I didn't like the book, I would read it in his honor and move on. Certainly I wasn't going to attempt reading the entire 20-book series! I know next to nothing about the Napoleonic Wars, the British navy circa 1800, or Georgian society – while I might like the book okay, I just couldn't imagine liking it enough to read the rest. So I started it with some trepidation… …and then my mind exploded and I developed a new and undeniably intense obsession. Hello, new fandom!
I'm here now to pass on the favor by telling you why you should read what is quite possibly the best western historical fiction of the 20th century, if not western fiction in general. But let's start at the beginning. I'm betting most of you have no idea who Patrick O'Brian is or what Master and Commander is about, but you may know more than you think. Remember Master and Commander: The Far Side of the World, that boat movie that came out in the early 2000s, the one with Russel Crowe and Paul Bettany as BFFs Captain Jack Aubrey and Dr. Stephen Maturin? If you don't, ask your dad – I think the movie is required viewing for all fathers. Either way, I will try with my mediocre literary powers to convince you why you should read this entire series right now. So here we go!
The Setting
Master and Commander throws us into a world at war – it's the year 1800 and Napoleon is fucking shit up all over Europe, much to the chagrin of the British Navy and her allies. Against this historical backdrop we are taken all across the world, from the icy waters of the Arctic to the blazing deserts of Africa, from the prim and proper society of Georgian England to deserted tropical islands beset by pirates, and everywhere in between. Many books take you to other places but this series does so with a depth of detail and historical accuracy that will leave you feeling like an expert historian.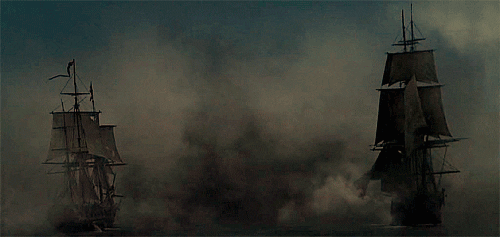 But I don't know anything about that time period! you say. Never fear! You don't particularly need to. Look, high school history class failed me too – I know more about Napoleon from Assassin's Creed: Unity than I do from any teacher I've ever had. Thankfully O'Brian understands the need for accessibility and flawlessly weaves any necessary explanations or information into the text in a way that educates without boring. As for the immense amount of nautical terms thrown back and forth, the reader is comforted in knowing Stephen Maturin has no idea what they mean either. However, I promise you that upon completing the series you could convince anyone that you're an expert in early 19th century naval history, social status and etiquette, biology, ornithology, entomology, hydrography, naturalism, mathematics, astronomy, religion, medicine, imperialism and colonialism, and just about any other topic you could think of. The amount of research O'Brian had to do to make these books so believable is absolutely mind boggling.
The Characters
This series is most commonly referred to as the "Aubrey/Maturin novels" or the "Aubreyad", as the two main characters are naval captain Jack Aubrey and doctor/naturalist/spy Stephen Maturin. Theirs is one of the most beautiful, realistic, and enduring friendships I've encountered in any form of media and forms the true heart of the series. These two are such utter dorks that you can't help but fall in love with them and turn eagerly to their next set of adventures.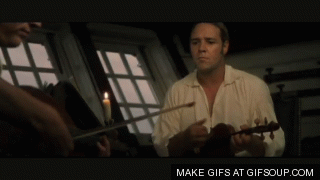 Jack Aubrey
On the outside Jack Aubrey is an ambitious naval captain who passionately loves the navy, his crew, and doing anything to foil Britain's enemies by sea. On deck he's a dashing master of his ship, called "Lucky Jack Aubrey" for his skill in battle and his frequent taking of prize ships. He bears a number of nasty scars as evidence of his firm belief that a captain must lead, not direct from the sidelines as his men head into danger. Even more, Jack is a man who sees the silver lining in every bad situation and always manages a smile in the face of danger or disaster. His seemingly endless fount of optimism endears him to the reader immediately, especially since we are offered glimpses of the emotional turmoil beneath which he hides not from pride but from the necessity of leadership. I would sail into battle with this man in a heartbeat.
On the inside, however, Jack Aubrey is a big squishy teddy bear and the king of dad jokes (even before he becomes a father). This man finds puns so funny that he laughs at his own before he says them, and laughs even when he can't think of one to fit the situation. He's just so tickled by puns and it's adorable. He's also quite fond of food and good alcohol, as well as a talented amateur violinist and astronomer. Jack appears at first like our usual dashing hero, eager for battle and flirting with all the pretty ladies, but this James Bond facade masks a dorky, good-humored man with a heart of gold who loves his family and friends fiercely. I love him so much it hurts.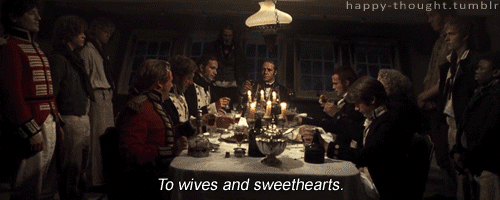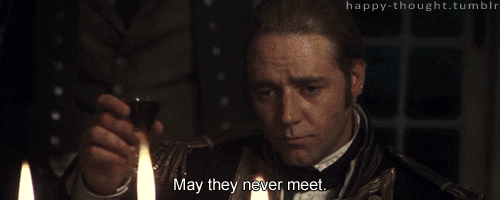 Stephen Maturin
On the outside Stephen Maturin is a singularly intelligent and talented surgeon and famed naturalist with a focus on ornithology (i.e. a huge fucking dork). He's the most hopeless landlubber ever to fall into the ocean while trying to board a ship, his mastery of multiple languages no help when it comes to naval jargon, and the crew of the HMS Surprise has to constantly keep him from dying at sea. Stephen will go to extreme lengths to observe a particularly interesting bird and can happily monologue for hours about a new species of beetle. He's your classic nerd: cranky, socially and physically awkward, unkempt, and simultaneously unbelievably smart and totally oblivious to everything around him. He's everything I want to be.
On the inside, however, Stephen is a man driven by love of his home countries, Ireland and Catalonia, and his resulting abhorrence of all forms of colonialism and oppression, especially slavery. This leads him to become a valuable member of Britain's spy network to stop Napoleon. Few characters know his secret but the reader is gifted with insight into Stephen's activities and we come to understand just how dangerous an enemy he can be and how valuable an ally. Stephen's nerdiness and clumsiness lead to some of the best laughs in the series, yet he can be colder and scarier than any other character. What he is at his core is a good man driven by higher principles and a truly exceptional love for weird birds.
Everyone Else
Jack and Stephen might have stolen my heart by the end of the first paragraph (in which they get into a fight at a musical concert because Jack won't stop air conducting), but the secondary characters are where this series truly outshines its contemporaries. Every single side character is as richly developed and complex as our protagonists and will capture your heart just as easily. From Jack's loyal crew and officers to Stephen's odd collection of wayward souls (many of whom are ex-slaves), both men manage to form an extended family of lovable and loving characters. One of my personal favorites is Tom Pullings, one of Jack's young officers whom we watch grow from little midshipmen to captain of his own ship. His utter adoration for Jack is so sweet it makes me want to throw my book across the room:
"…All except for Pullings, who had the watch, and was walking the quarterdeck with his hands behind his back, pacing in as close an imitation of Captain Aubrey as his form could manage, and remembering, every now and then, to look stern, devilish, as like a right tartar as possible, in spite of his bubbling happiness."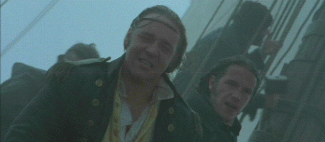 The Writing
I know what you're thinking. That's great, but this just isn't my genre. I know I'm gonna be bored. I need magic/sci-fi/paranormal-whatever. And you know what? That is FALSE. Look, I have extremely high standards for my fiction and while I'm a sci-fi/fantasy girl at heart, I'm drawn primarily these days to queer speculative fiction. Historical fiction set in 18th century England is not at all my cup of tea (pun intended)… or so I thought. But please understand the gravity of the following statement:
I have never read a more beautiful, well-written work of fiction than this series in my entire life.
It's true! In just one book Patrick O'Brian surpassed Ray Bradbury as my Biggest Writing Hero Ever and every single book in the series is as fantastic as the next – how often does that happen? The prose is flawless, at once accessible and laden with historical accuracy, a fast-paced read rich with minute detail. What O'Brian does best, though, is his weaving of subtle humor into every scene; a reader paying close attention is rewarded with some truly humorous, one might even say silly, little scenes and asides. I have to share my two favorites, though they're a little long:
"The sloth sneezed, and looking up, Jack caught its gaze fixed upon him; its inverted face had an expression of anxiety and concern. 'Try a piece of this, old cock,' he said, dipping his cake in the grog and proffering the sop. 'It might put a little heart into you.' The sloth sighed, closed its eyes, but gently absorbed the piece, and sighed again.
Some minutes later he felt a touch on his knee; the sloth had silently climbed down and it was standing there, its beady eyes looking up into his face, bright with expectation. More cake, more grog; growing confidence and esteem. After this, as soon as the drum had beat the retreat, the sloth would meet him, hurrying towards the door on its uneven legs: it was given its own bowl and would grip it with its claws, lowering its round face into it and pursing its lips to drink. Sometimes it went to sleep in this position, bowed over the emptiness.
"In this bucket," said Stephen, walking into the cabin, "in this small half-bucket, now, I have the population of Dublin, London and Paris combined: these animalculae – what is the matter with the sloth?" It was curled on Jack's knee, breathing heavily: its bowl and Jack's glass stood empty on the table. Stephen picked it up, peered into its affable, bleary face, shoot it, and hung it upon its rope. It seized hold with one fore and one hind foot, letting the others dangle limp, and went to sleep.
Stephen looked sharply round, saw the decanter, smelt to the sloth, and cried, "Jack, you have debauched my sloth.""
And from the very first book in the series…
"'I was contemplating on the Pongo,' Stephen said aloud as the door opened and Jack walked in with a look of eager expectation, carrying a roll of music.
'I am sure you were,' cried Jack. 'A damned creditable thing to be contemplating on, too. Now be a good fellow and take your other foot out of that basin—why on earth did you put it in?—and pull on your stockings, I beg. We have not a moment to lose. No, not blue stockings: we are going on to Mrs Harte's party—to her rout.'
'Must I put on silk stockings?'
'Certainly you must put on silk stockings. And do show a leg, my dear chap: we shall be late, without you spread a little more canvas.'
'You are always in such a hurry,' said Stephen peevishly, groping among his possessions. A Montpellier snake glided out with a dry rustling sound and traversed the room in a series of extraordinarily elegant curves, its head held up some eighteen inches above the ground.
'Oh, oh, oh,' cried Jack, leaping on to a chair. 'A snake!'
'Will these do?' asked Stephen. 'They have a hole in them.'
'Is it poisonous?'
'Extremely so. I dare say it will attack you, directly. I have very little doubt of it. Was I to put the silk stockings over my worsted stockings, sure the hole would not show: but then, I should stifle with heat. Do not you find it uncommonly hot?'
'Oh, it must be two fathoms long. Tell me, is it really poisonous? On your oath now?'
'If you thrust your hand down its throat as far as its back teeth you may meet a little venom; but not otherwise. Malpolon monspessulanus is a very innocent serpent. I think of carrying a dozen aboard, for the rats—ah, if only I had more time, and if it were not for this foolish, illiberal persecution of reptiles … What a pitiful figure you do cut upon that chair, to be sure. Barney, Barney, buck or doe, Has kept me out of Channel Row,' he sang to the serpent; and, deaf as an adder though it was, it looked happily into his face while he carried it away."
Also, there's literally a chapter in one book where our heroes escape from France by buying a recently skinned bear, turning it into a costume, and tricking everyone into believing Stephen is a traveling entertainer and Jack is his pet bear. They walk hundreds of miles to the freedom of the Spanish border over harsh terrain, sometimes acting for pennies in the town square, as Jack just suffers in this stuffy, slowly spoiling meat suit and no one suspects a thing. IT'S THE BEST.
These books aren't just about laughs, though. They elicit emotions across the spectrum from joy to sorrow, anger to triumph, disbelief to nerve-wracking anticipation. They utterly captivate the reader from page one – twenty books won't be enough once you get caught up in the Aubreyad! I've never read a series that made me want to simultaneously hug and throw my books as often as this series and I truly will be bereft when I finish the last book. This is a stunning example of "genre" fiction raised to the very heights of literature and a must-read for anyone who appreciates complex characterization and masterful prose. You will not be disappointed, I can absolutely promise you that.