Top 10 Munchie Movies, or: Better Hold Onto Your Butts
munch·ie mov·ie
mən(t)SHē mo͞ovē
noun
a subgenre of movies in which one or more characters is physically eaten by an entity in the film
Are you familiar with the phrase "munchie movie"? If not, you are forgiven; after all, I made it up as a child and I don't believe its usage has gone much beyond my circle of friends and family despite it being a totally legitimate genre. You've seen plenty of munchie movies, after all, even if you didn't know it. A munchie movie is any movie in which people are eaten (ie munched) by something – for example zombies, dinosaurs, monsters, sharks, aliens, etc. These movies usually fall into the sci-fi and horror genres, though some of the best can also be shelved under action/adventure or comedy. As the undisputed queen of munchie movies, let me introduce you to my favorite subgenre with my Top 10 Munchie Movies list. Sit back, relax, and grab some popcorn!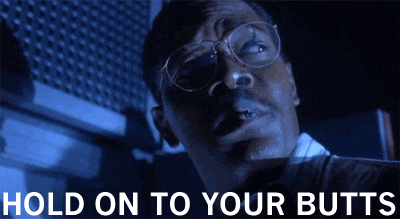 10 – The Mummy (1999)
1999's The Mummy is an all-around fantastic movie and really needs no introduction. It's ostensibly an action movie, yet what earns it a spot on this particular list are not just the folks our titular villain sucks dry to regain his human form, but those creepiest of creepy crawlers: the dreaded scarab beetles. More voracious than piranhas and a thousand times as inexplicably plentiful, these little suckers can strip a grown man in seconds flat. Not a pretty sight, as poor Benny learns at the end of the film while our heroes ride off into the sunset. The Mummy is a cult classic, if I do say so myself, and earns its spot on this list with some Egyptian-themed PG13 snack-gore.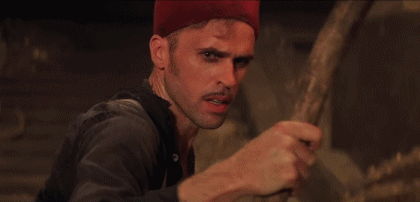 9 – The Ruins (2008) 
The Ruins is not a film for the squeamish; however, if you aren't too easily grossed out it's a very interesting take on the usual munchie movie monsters. Seeking a cool "off the map" archaeological dig, a group of American tourists trespass on a forbidden ruin in the Mexican jungle (never a good idea) and subsequently discover what happened to the mysteriously missing scientists. They were eaten, is what happened to them. By carnivorous plants. Highly intelligent carnivorous plants. Those don't sound that scary to you? Oh, just wait.What ensues is a gruesome yet entertaining struggle for survival that literally pits man against nature. A definite watch for any horror fan, and the book of the same title is even better.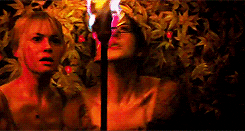 8 – Pitch Black (2000)
Much like in The Ruins, Pitch Black's characters must ask the question "Where did everybody go?" and then, much to their regret, discover the answer. No killer plants in this one, though; our heroes in Pitch Black are stranded on a desolate planet populated by hungry aliens who come out to hunt in the dark. On a planet with multiple suns this shouldn't be an issue, but to make matters worse an imminent eclipse is going to send the whole planet into total darkness. Vin Diesel is fantastic as our anti-hero Riddick and Pitch Black hits all the right munchie movie notes. A word of advice, though : just avoid the other movies in the series and stick with the original.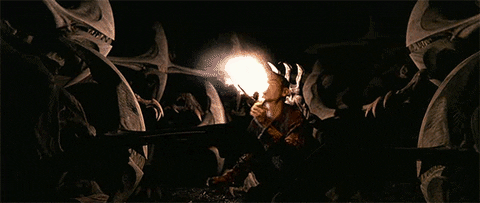 7 – Komodo (1999) 
Komodo was a late-90s straight-to-VHS release that apparently no one but myself has seen. It features a young Billy Burke (in a far better role than as Bella's father in Twilight) and several CGI komodo dragons of surprisingly good special effects. This movie has probably never been on any Top 10 list in its life, but it deserves to be on this one for its tension, action, and killer komodo dragon scenes. For a movie that never made it into theaters, it's worth the watch. I mean, come on, KOMODO DRAGONS.
This movie is so obscure I can't even find a gif from it, so here's proof of how fast they are in real life: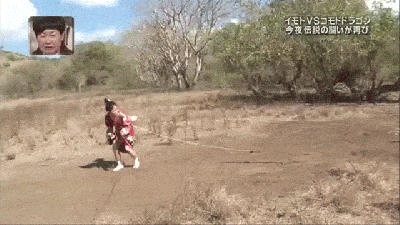 6 – Cabin in the Woods (2012)
Remember when we all still liked Joss Whedon? Well, despite who he is on a personal level, the man can write some cool shit – and Cabin in the Woods is arguably the coolest of his creations. Unlike most munchie movies that lay the plot out pretty early, this movie actually has a big plot twist that I can't bear to spoil for you. Just be assured that a LOT of people get eaten by a LOT of monsters and it's pretty darn great. Plus, the movie shines with Whedon's characteristic dark humor and likable characters. Once you've watched it, let me know something: would you have made the same decision as our surviving characters?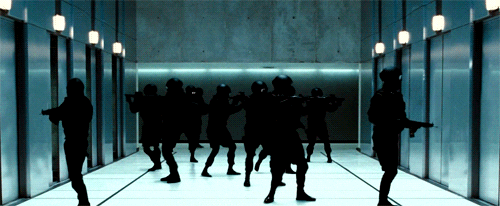 5 – Resident Evil (2002) 
Ah, the movie that turned me gay homoromantic. It was hard to choose which zombie movie to include on this list, but Resident Evil just edged out 28 Days Later by sheer number of on-screen munches. Another classic of the horror/action genre, Resident Evil has everything you could want in a movie: zombie people, zombie dogs, something that used to be a rabbit maybe, an evil AI, more zombies, and both Milla Jovovich AND Michelle Rodriguez. Great special effects and a killer (pun intended) soundtrack are the toppings on the cake, so to speak, and overall it's worth a watch or two, or ten, or fifty. And if it makes you question your sexuality, well, hey, we've all been there.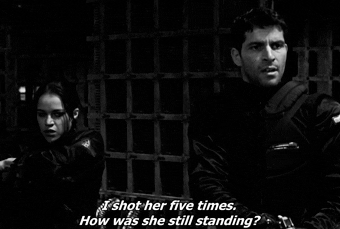 |
4 – Lake Placid (1999)
Lake Placid is a vastly underrated movie with a stellar cast including Bill Pullman, Brendan Gleeson, Oliver Platt, and Betty White. This movie is more a dark comedy than an action movie, with our monster crocodile providing just the right amount of tension and the occasional blood-fest as background to the gallows humor. The special effects are great, as is the writing, and I think you'll find yourself siding with the crocodile as Gleeson and Platt go head-to-head over its ultimate fate. Another classic that deserves far more praise than it gets.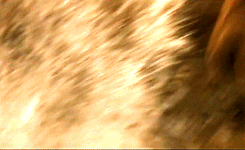 3 – Deep Blue Sea (1999) 
I know, I know, you're thinking, "You chose Deep Blue Sea over Jaws??" I did, but here's why. Jaws is one of the best movies ever, hands down, and you don't have to like munchie movies to agree; so let's let a different shark movie have the limelight for once, okay? Deep Blue Sea may not be a cinematic masterpiece, but it has super smart sharks, an underwater lab full of edible people, and a black character who DOESN'T DIE. Plus, it has the one thing even Jaws doesn't – a shark-themed rap by LL Cool J in the credits. Why would you want to miss that? You wouldn't. It's amazing. People act like this movie is trash, but if you actually watch it you'll see that it's entertaining, bloody, and action-packed, which is all a munchie movie needs to be to earn its name. Also, did I mention LL Cool J is in it?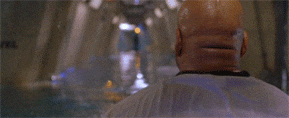 2 – Tremors (1990) 
Have you ever wanted to see Kevin Bacon fight off giant subterranean carnivorous worms? You have? Well, do I have good news for you! That is exactly the plot of Tremors, a cult classic in its own right and shoe-in for number 2 on this list. When the tiny town of Perfection Valley, Nevada finds itself beset by killer worms from outer space underground, it's up to Kevin Bacon and Fred Ward to save the day. Before this is accomplished, however, a lot of people are gonna be worm food (*snickers*). This is one munchie movie series where the sequels, albeit not quality movies by any real definition, are still humorous and bloody enough to be worth a Saturday afternoon watch. The sixth apparently is set to be released in 2018, so you better catch up quick!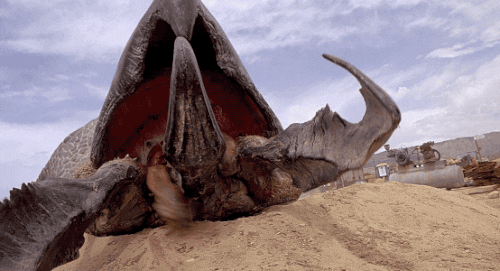 1 – Jurassic Park (1993)
I will forever remember watching Jurassic Park for the first time at the tender age of five. This movie earns its number 1 spot by a combination of nostalgia, staying power, fantastic acting, and special effects that even look better than those of some movies coming out today. Jurassic Park is the perfect munchie movie; the monsters are engaging and realistic, the characters are fully formed, and the plot moves along at a steady pace while allowing for many a munching to occur. The movie also surpasses some of its fellows by getting the audience to not only care about the characters, but the monsters themselves. The T-Rex might be a killer, but it's impossible not to see the dinosaurs, even the predators, for what they are – creatures acting as they would in the wild. Jurassic Park balances action and blood with moral consideration and natural philosophy, elevating it from basic munchie movie to cinema classic. It's basically the best movie ever and I will not entertain arguments that say otherwise.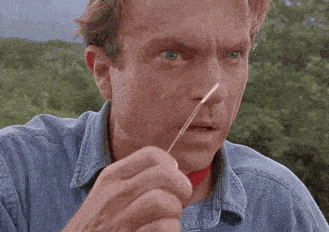 What are your favorite munchie movies? Let me know in the comments!