Do you ever experience a piece of media – a book, a song, a movie – and get hit with the knowledge that this thing would have totally spoken to your younger self? That if you had experienced it at, say, sixteen or seventeen, who knows how it might have changed you?
Flashback to myself in high school, circa 2006. I hadn't yet discovered asexuality and assumed, for all intents and purposes, that I was straight (despite having zero interest in dating). If you had asked me then why I so adamantly adored Elizabeth Hurley in Bedazzled, Milla Jovovich in Resident Evil, and Clea Duvall in The Faculty*, I would have said it was because they were so cool, so badass, so confident. I might have said it was because I wanted to be like them in some way, or just tag along on their adventures.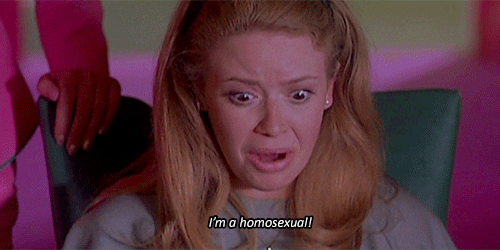 Um. Yeah. I was pretty oblivious to things. In my defense, though, my peer group didn't use labels like sapphic, homoromantic, or really anything besides the L, G, and B. I didn't know it was possible to like girls without, well, LIKING girls, so I never analyzed the feelings I was having at the time. Even after I learned about asexuality at the age of nineteen and officially adopted the label for myself at age twenty-one, I still spent several years agonizing over what my strange attraction to girls meant. It wasn't until I was almost twenty-six that I finally opened that door a crack – just enough to let in the girl who would become my fiance.
I say all this with a purpose, I promise. See, a couple months ago I started a local queer meetup. We happen to all be in one way or another attracted to women, so when we held a movie marathon last week, we watched sapphic movies. One of these, But I'm a Cheerleader (BIAC), was a late 1990s comedy featuring Natasha Lyonne as a closeted lesbian sent to a conversion therapy camp by her parents. It's a very silly movie with an undercurrent of dark realism that makes the friendships and romances all the more poignant. It also, to my embarrassingly giddy surprise, features a Clea Duvall who looks exactly like her Faculty character Stokley. On whom I have had a raging crush since high school. Oh, and should I mention this is a movie where you get to watch Stokley make out with another girl? How the internet didn't let me know this movie existed sooner, I will never know. And I will always be bitter about that. You let me down, Tumblr!
Anyway, all this is to say that the ending of the movie made me cry. Not Carol, which we watched first, oh no. BIAC made me cry. Why? Partly because the ending is so sugary sweet (a sapphic movie with a happy ending? yes please!), but also partly because I watched the whole movie thinking This came out in 1999? I could have watched this as a kid? As a confused teen who had no idea why she got so mad that Stokley wasn't a lesbian after all? You mean I could have had an actual queer Stokley to obsess over all these years??
I've read and watched a lot of queer media since I was a teen, but none of it quite hit me like this movie did. I sincerely think that if I had watched BIAC as a teenager, I would have known ten years earlier that I was sapphic. Ten years! Ten years I could have spent learning to embrace my identity, instead of agonizing over it. Ten years I could have spent making friends with other queer people, instead of feeling unwelcome in those circles. Ten years I could possibly have spent dating and exploring my desires and boundaries. Ten years of angst and loneliness that could have been ten years of friendship and pride parades.
That thought kinda hurts, to be honest. I'm in a good place now – proudly ace and proudly sapphic – but I wasn't for a long time. I struggled, especially in college. There are songs I can't listen to because they're just filled too much with that old longing. When I see queer representation in media these days, especially in shows like Legend of Korra and Steven Universe, I feel simultaneously joyful and jealous. Joyful that representation like this might save someone years of hurt; jealous because I could have used that representation, too. As a kid, I was too deeply in the closet to even think of seeking out queer media. I can't imagine how much seeing queer relationships in "regular" media might have opened my eyes. I know being a queer kid today isn't easy, but I'm still so happy to think that even one kid might be saved the emotional bog through which I had to wade.
*and Michelle Rodriguez and Gong Li and Fairuza Balk…